This blue cheese pasta bake is the result of a "fridge dive" using up ingredients in the fridge.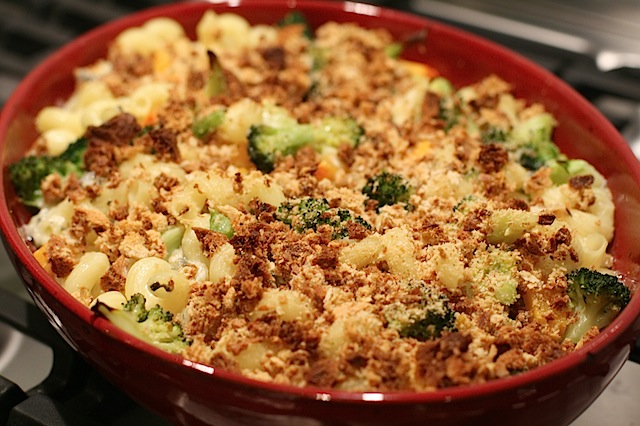 Blue cheese pasta bake with butternut and broccoli
I don't know why pasta bakes have been under used in our house but I intend to change this. Generally do pasta straight with sauces or pesto, our favoured shapes are linguine or quills. I don't like farfalle butterflies as the centres are still hard when the outside is cooked.
Recently I saw a pasta bake in a picture that used this spirally pasta and I went out and bought some – it's the de Cecco brand in blue and yellow packets. They do all the best shapes! Interestingly though, my Italian friends who used to live with us favoured Buitoni as their dried pasta of choice.
One of my new year's resolutions is to make my own pasta, I have not done this yet but have purchased a pack of 00 flour in readiness.
At the weekend I spotted all the big packs of Stilton being marked down in the supermarket – 500g cost just £3.50 and I might have bought 1 kilo for £5 but this seemed a bit excessive.
I'm ashamed to say the broccoli and butternut squash had been lurking in the fridge since before Christmas – the butternut squash having had its end sliced off a couple of times to keep it fresh. My mother would probably have thrown it away but beyond the first 2mm of cut surface there was really nothing wrong with it.
This pasta bake, served in my late Grandma's glossy red ceramic dishes fed the family for two meals. All of us together the first time then each of us enjoying a separate lunch or supper. My husband welcomed the change from sandwiches and I'm going to make pasta bake a regular event from now on.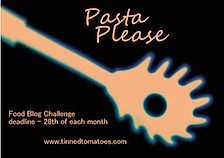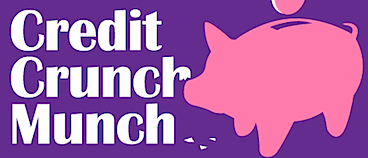 I am sending my pasta bake to two brand new blog events run by my friends. The first is Pasta Please hosted by Jacc and the second is Credit Crunch Munch hosted by Camilla jointly with Helen.
[amd-zlrecipe-recipe:2]