Raw salads are a welcome change after Christmas. This brussels sprout coleslaw is perfect for using up left over ingredients you may have in the fridge.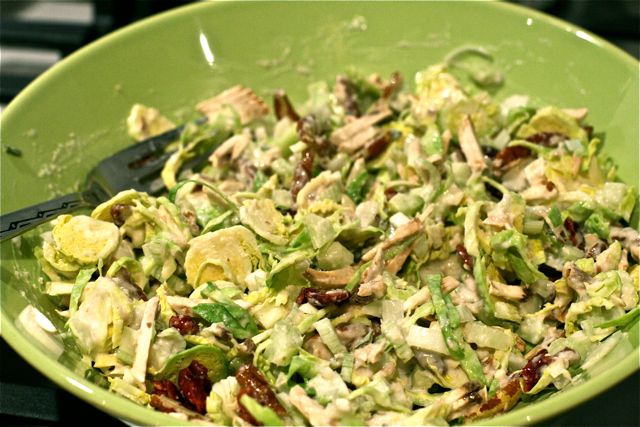 It's the tail end of the Christmas bag of sprouts and although I will certainly buy more during the winter, I feel I ought to do something interesting with the six lonely ones left.
This brussels sprout coleslaw was inspired by a leftovers suggestion in this month's Delicious magazine. Assembling this from memory the ingredients are completely different apart from the thinly sliced raw sprouts and horseradish factor.
I must admit I've spent most of my days being very basic with sprout serving suggestions but my attitude towards them was changed after I read Jeanne's suggestion to stir fry them on Cook Sister maybe last year. I never imagined I'd try them raw though!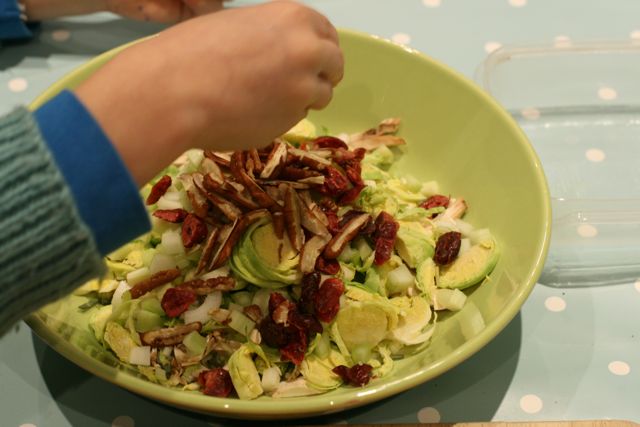 I had no expectation that Ted would want to eat this however he was enthusiastic to help mix the ingredients and even ate a tablespoon of it with his dinner. Raw sprouts and horseradish for a five year old! I'm impressed!!  It is the first time he's eaten coleslaw never sprout coleslaw (although he likes cooked sprouts). Like most kids helping with cooking, Ted is more motivated to eat stuff he's helped to make.
Variation ideas for brussels sprout coleslaw recipe
Obviously the brussels sprouts are the point in a sprout coleslaw but you can substitute other ingredients:
Dates instead of dried cranberries
Walnuts instead of pecans
Chestnuts instead of mushroom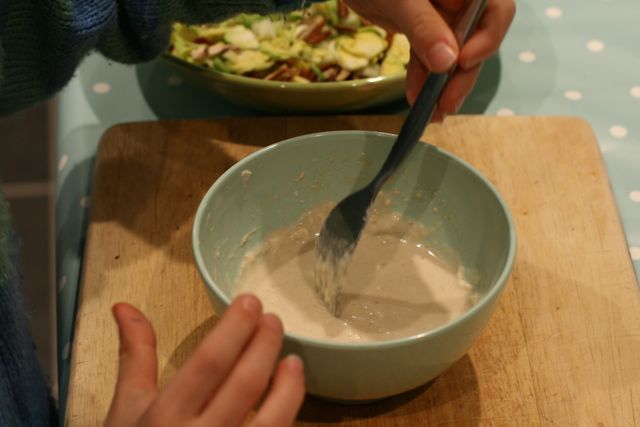 This brussels sprout coleslaw recipe is going to this month's Christmas leftovers themed No Croutons Required veggie soups and salads organised by Jacc and Lisa.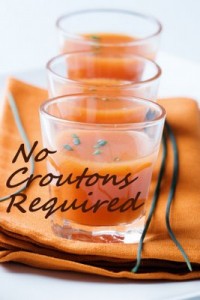 [amd-zlrecipe-recipe:1]